May 202 Show Vendor Information
For more information, please contact:
Location: Crow Wing County Fairgrounds, 2000 S. E. 13th Street, Brainerd MN 56401
Dates Saturday May 13 & 14, 2023
Times: Saturday: 9am to 5pm  &  Sunday: 10am to 4pm
---
Dear Vendors and Exhibitors,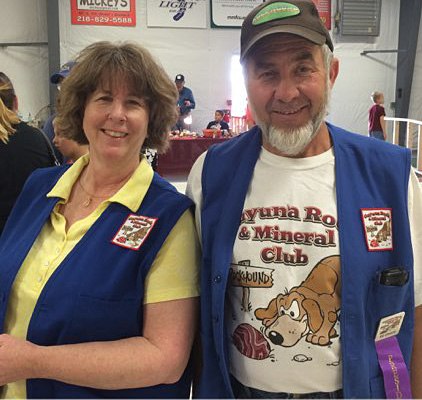 The 19th Annual Cuyuna Agate & Mineral Show will take place on May 13 and 14, 2023.  
We will be complying with any CDC and State recommendations regarding  Covid-19 safety.
Food vendors will be outdoors, or as required at show time. There may be fewer volunteers, as caution is important for compromised individuals. We will have display cases. If you have a special  collection you would be willing to share in one of our display cases, please reserve on the registration form.
We won't be hosting the Friday night dealer sandwich buffet. Indoor dealer space will be limited by social distancing  rules and maximum occupancy limits. All dealers should try to limit the number of people working in their booth. If  at all possible, consider being an outdoor vendor.
We will not hold any silent auctions, nor will we be handling door prizes this year.
We will be publishing a vendor list and floor map. If you'd like to place an ad in the handout, please add it to your  registration form.
There will be no sharing of spaces, inside or outside. One vendor/business per registered space.  No smoking or alcohol on the premises; no dogs, except for service dogs. (Crow Wing County Fairgrounds rules.)   
Indoor Spaces: 
Indoor tables will remain at $75 per 8' table (provided). Spacing will remain similar to 2021; we plan on using two  buildings. Space location will be assigned at our discretion.
Tailgate Spaces: 
Tailgate space will be $40 per 15 feet of frontage for the weekend (space only). Spaces on corners have frontage on  two sides and are charged for frontage on each side. Please indicate a corner space in the registration form, if desired.  There will be no last minute registrations for tailgaters at the gate on Saturday. All tailgate spaces will be presold and  assigned at our discretion.
We are giving preference to previous vendors. Space is limited. A deposit does not guarantee space. Once our previous vendors have registered, all new vendors will be honored on a first come – first serve basis.
We prefer agate dealers or artisans over resellers of foreign goods.
All Vendors, please download and print the following vendor information PDF:
Please complete and return your registration forms by April 1, 2022.
Move in: 2:00- 8:00 pm Friday May 6  ~  Move out: Sunday May 8 after 4:00 pm
Ed Opatz: 320-250-1363   |  Please call Ed to see if there is space left.  
Vendor Sign Up >>   Mail
Dear Vendors:
Please don't hesitate to contact me with any questions you may have.
We look forward to a successful event and to working with you in 2022.
Many thanks for your support and participation!
Regards,
Ed Opatz
320-250-1363