May 2023 Show Vendor Information
For more information, please contact:
Location: Crow Wing County Fairgrounds, 2000 S. E. 13th Street, Brainerd MN 56401
Dates Saturday May 13 & 14, 2023
Times: Saturday: 9am to 5pm  &  Sunday: 10am to 4pm
---
Dear Vendors and Exhibitors,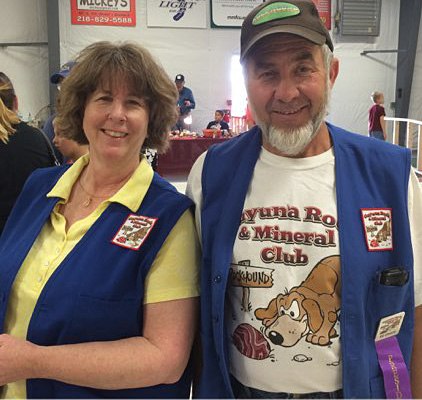 The 20th Annual Cuyuna Agate & Mineral Show will take place on May 13th and 14th, 2023.
There will be some jurying of vendors. Registration does not guarantee your space. You will be notified by email or phone (call/text) if you have been accepted or are on the waiting list.
We will be complying with any CDC and state recommendations regarding Covid-19 safety. If you have a special collection you would be willing to share in one of our display cases, please reserve on the registration form.
The free Friday night dealer soup and sandwich buffet is being reinstated. Please indicate on the registration, to the best of your knowledge, how many people will be attending the buffet. We will have a very brief speaker on the most current information on counterfeit money during the meal.
We will be publishing a vendor list and floor map. Vendors are able to purchase ad space in the program. There is an upload field on the form for online registration. Mailed in registration must provide a business card or camera-ready ad.
There will be no sharing of spaces, inside or outside. One vendor/business per registered space.  No smoking or alcohol on the premises; no dogs – except for service dogs – no firearms allowed. (Crow Wing County Fairgrounds rules.)  There will be no trimming of trees, bushes, or shrubs. No incense, candle burning, or similar inside the buildings.
Indoor Spaces:
Indoor tables will remain at $75 per 8' table (provided). Spacing will remain similar to 2021; we plan on using two buildings. Space location will be assigned at our discretion.
Tailgate Spaces:
Tailgate space will be $40 per 15 feet of frontage for the weekend (space only). Spaces on corners have frontage on two sides and are charged for frontage on each side. Please indicate a corner space in the registration form, if desired.  There will be no last-minute registrations for tailgaters at the gate on Saturday. All tailgate spaces will be pre-sold and assigned at our discretion.
We prefer agate dealers or artisans over resellers of foreign goods.
Please complete and return your registration forms by April 1, 2023.
Move in: 2:00 – 8:00 p.m. Friday May 12 ~ Move out: Sunday May 14 after 4:00 p.m.
Leaving prior to show ending time is not acceptable; you may not be asked to vend at the 2024 show.
---
VENDORS APPLYING BY MAIL
All Vendors applying by mail, MUST FILL OUT and SUBMIT the MN ST19 – then fill out vendor registration.

All information and documents are contained in the PDF link below.
Click link below to View/Print complete event information below.
You may need a PDF Reader on your computer to view document, such as: Adobe PDF Reader
---
VENDORS APPLYING ONLINE
All Vendors applying ONLINE MUST FILL OUT via the form below.
This form includes both the ST19 and the Vendor Registration form
---
Move in: 2:00- 8:00 pm Friday May 12  ~  Move out: Sunday May 14 after 4:00 pm
Ed Opatz: 320-250-1363  |  Please call (no texts, please) for more information.

Dear Vendors:
Please don't hesitate to contact me with any questions you may have.
We look forward to a successful event and to working with you in 2023.
Many thanks for your support and participation!
Regards,
Ed Opatz
320-250-1363