May Show Vendor Information
For more information, please contact:
Location: Crow Wing County Fairgrounds, 2000 S. E. 13th Street, Brainerd MN 56401
Dates Saturday May 7th & 8th, 2021
Times: Saturday: 9am to 5pm  &  Sunday: 10am to 4pm
VENDOR REGISTRATION WILL OPEN EARLY SPRING OF 2022
---
Dear Vendors and Exhibitors,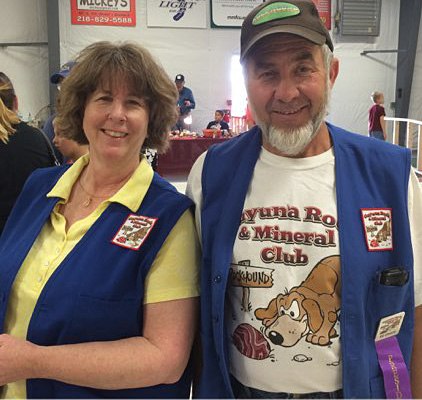 The 18th Annual Cuyuna Agate & Mineral Show will take place on May 7th & 8th, 2021.  Holding the show on Mother's Day weekend brought in a lot of folks who had never been to a rock show. You introduced them to a new world and I expect they will be eager to return in 2021!  Be sure to use Mother's Day (Sunday, May 8th) in your promotions. We plan to promote something special for Moms on Sunday to encourage attendance.
As every year, our volunteers strive to produce the best possible show for vendors and attendees. If you have a special collection you would be willing to share in one of our display cases, please reserve one with me.
Indoor tables will remain at $75 per 8' table (provided) and tailgate space will remain at $40 for the weekend (space only).
We prefer agate dealers or artisans over resellers of foreign goods. Indicate your products on the registration form.  There will be no last minute registrations for tailgaters at the gate on Saturday. All tailgate spaces will be pre-sold and assigned at our discretion.
Please complete and return your registration forms by:
April 16, 2022
Move in: 2:00- 8:00 pm Friday May 6  ~  Move out: Sunday May 8 after 4:00 pm
Please don't hesitate to contact me with any questions you may have. We look forward to a successful event and to working with you in 2022.  Many thanks for your support and participation!
Regards,
Ed Opatz
320-250-1363